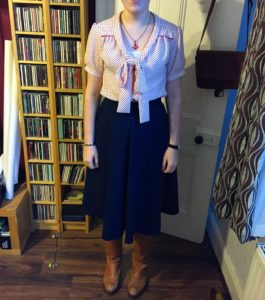 One of the sewing resolutions that I set myself for this year was to try and build some more me-made plain coloured staples into my wardrobe as a balance for the super fun but not always practical patterned dresses I love. This was one such adventure, into the land of practical workwear (pictured above with my Mimi blouse hack)
What is it?
A just-below-knee-length flared skirt
Is it blue?
Yup!
What's the fabric and where is it from?
A navy blue crepe bought from a stall in Leicester market – I think run by someone called Stuart?
What's the pattern?
The Sewaholic Hollyburn skirt in variation A
What was good about making this?
The pockets were a new skill for me, and really straightforward once I got my head around the instructions.
What was bad about making this?
I didn't really like it once it was finished; there's just something about the way the fabric joins in almost – but not quite – a reverse pleat in the centre that I cant get on board with. I've warmed to it a bit in the two months in between, but it definitely doesn't get worn as much as some of the other skirts I've made (although whether that's true after Me Made May remains to be seen!)
Would you make it again?
I'm not sure. I might make one of the shorter versions, but I think I probably prefer a gathered skirt to this one.
x