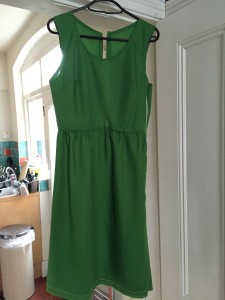 Ok, so I'll be honest, I don't really know what counts as spooky sewing, however this definitely counts as speedy sewing; in under three hours this morning/afternoon I managed to sew up a whole dress!
What is it?
A green shift dress that forms the basis for my Halloween costume next week; I'm going to go as Poison Ivy although I'm going for more of a 50s theme Ivy and a bit less flesh-revealing than the traditional comic book character…. I'll be cutting a load of ivy down from out garden to wrap around myself and into my hair and making my eyes all green and sparkly to complete the look.
Is it blue?
Nope, green. How many ivy plants have you seen that are blue?
What's the fabric?
Really nasty cheap polycotton that I bought for a previous costume
What's the pattern?
The pattern is one I drafted myself in a copy-your-clothes class. The original dress is one of my favourite ever RTW items. What you can't see in this photo (not least because I haven't sewn them on yet…) is that there's a false opening on the back held together by buttons. The only difference I made was to the skirt which is a bit tighter than the original, not least due to the limited amount of fabric I had!
Where's the fabric from?
I think it was from Fancy Silk?
What was good about making this?
I was really pleased with a couple of things with this. The first was how quickly it came together. I didn't have any bias binding but managed to figure out a bodge for hemming the neckline which I was chuffed with.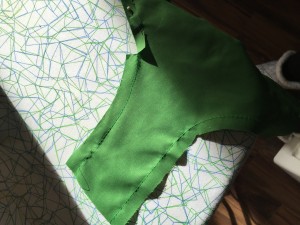 Basically, I sewed baste stitches at the 5/8  seam, then used these to help me turn the hem, cutting notches as necessary on any curved lines. I then pressed it all and resewed at 3/8. I was also pleased with the gathers connecting the skirt to the bodice, especially as the back pieces don't connect so I had to make sure they lined up as neatly as possible without actually joining them (that doesn't make sense but would if you saw the back)
What was bad about making this?
Despite being a copy of a dress I already have, I don't like the way the armholes sit when the dress is on, nor do I like where the bust darts are. It also seems tighter than expected, which is a bit of a worry.
Ultimately, although it's a bit rough around the edges, I'm pleased with the speed that this came together. Besides which, once I've dressed it up with ivy and the like (and I'll share pictures next week after the party) all the bodges and rough bits will be hidden and no-one will know!
How about you? Are you making a costume for the spookiest night of the year (possibly)?