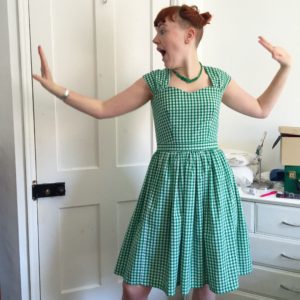 I love gingham. It's amazing and summery and makes me feel like holidays are just around the corner (almost certainly due to gingham dresses being summer uniform at school). Coupled with the sweetheart neckline loveliness of the Cambie dress pattern, it was a match made in heaven, and to be honest, the main surprise is that it took me so long to make it!
What is it?
A dress with a sweetheart neckline and a gathered skirt
Is it blue?
Nope
What's the fabric and where is it from?
The fabric is a cotton gingham that I got as part of the stash swap at Sew Brum
What's the pattern?
The Cambie dress by Sewaholic Patterns in variation B
What was good about making this?
I really enjoyed the simple way that this pattern came together, and had a surprisingly good time trying to pattern match the gingham up. I didn't have any faith in the description of the way that the skirt would gather up, but actually it was lovely and the pockets are a delight (seriously, who doesn't love a dress with pockets?
What was bad about making this?
I had a nightmare getting the lining to attach to the bodice at the waist, and in the end I made the decision to leave it unattached except for a small section in the centre. It worked well and is definitely how I'd do this if I made another cambie without a skirt lining.
Would you make it again?
Yes as this was a wearable toile for the unicorn dress….
x