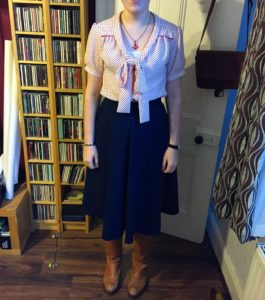 What is it?
A loose-fitting button up blouse with pleated sleeves and altered by me to have a pussy bow collar and piping on the yoke.
Is it blue?
No!
What's the fabric?
A flimsy material (not very good with technical terms….) that's white and covered in teeny red polka dots
What's the pattern?
I used the same pattern that I used for the blue blouse, but followed the instructions in the book to add the piping on the yoke and this hack tutorial on the collar
Where's the fabric from?
The Fancy Silk Store in Birmingham
What was good about making this?
Managing to get the hack to work and figuring out how to do the piping
What was bad about making this?
The fabric was slippery which made it a bit hard. It also took me a while to figure out how to do the piping without actual piping. I ended up getting bias binding, sandwiching it and trimming it down. Looked pretty effective though so ultimately a plus.
Would you make it again?
I'm not sure. I like the softness of this blouse far more than the previous one, but with both versions they're pretty low cut on me so I have to wear them vest tops underneath. If anyone has a suggestion for an alternative feminine blouse that I could make that has a slightly higher neckline it would be much appreciated!