<Warning! This post might get long. Go fetch a cuppa (or gin…) first>
On Saturday I found myself leaving home far earlier than I usually would* and heading into town for my first ever sewing meet up. I had no idea how many people would be there or what to expect so it was with some trepidation that I climbed the steps up the museum and into the Edwardian Tea Room.
What I saw when I got there can only be described as overwhelming: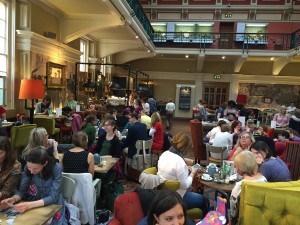 With the exception of pictures, I don't think I'd ever seen so many sewists all together and in one room. This picture captures maybe half of the people who were there? It was pretty crazy.
From the tea rooms we headed down to the Rag Market for a fabric spree. Despite Birmingham being my home turf, this was the first time in a very long time that I'd gone into the market. In my head it's a bustling, busy place with too many options, leaving me to normally run away to a bricks and mortar shop instead.
On Saturday though, armed with a very specific list of fabric I needed, I embraced the hustle and bustle and left no stall unturned. The market did not disappoint with three projects sorted for less than £20!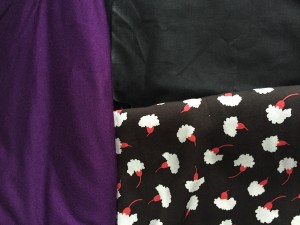 The purple is destined to be a long sleeved Moneta, the floral is for a Sewaholic shirt dress and the black is for a first mock up of the super secret project.
We headed from the rag market out to Moseley for lunch at the Farmers' Market. With the sun shining, it was a lovely day for it, and whilst I went to the samosa man, I think the falafel man couldn't believe his eyes at the number of sewists queueing up for one of his delicious looking wraps
The final stop of the day was Guthrie and Ghani, and if I'd thought that the tea rooms was busy, G&G was busier! I was talking to Lauren at one point and she said by her reckoning there were over 70 people there!
It was a great opportunity to chat some more with the lovely people there, cross my fingers really hard during the raffle (no, I didn't win the overlocker :'( ) and enjoy the lovely coffee and cakes. The best bit though? STASH SWAP!
I had no idea what to expect from the stash swap, but my word it definitely didn't disappoint. I came away with…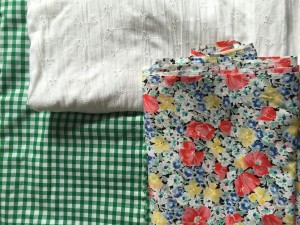 …3m of floral fabric that will become a shift dress of sorts, green gingham that I'm hoping will make a shirt dress (need to measure it first!), loads and loads of white broderie that I plan to dye blue (surprise surprise)…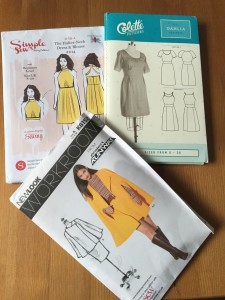 …a Simple Sew halterneck pattern, another cape pattern with matching skirt and, amazingly, an UNUSED Colette Dahlia pattern. The generosity of people clearing their stashes is amazing, I was bowled over by what was on offer!
Speaking of generosity, the lovely Caroline of CJ Made gave me a piece of the gorgeous Girl Charlee jersey she won in the raffle.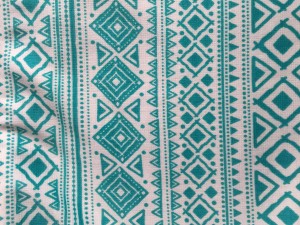 Isn't it gorgeous? I'm hoping I can just squeeze enough out of it for a shift dress
PLUS look at the merit badge I got in the swap!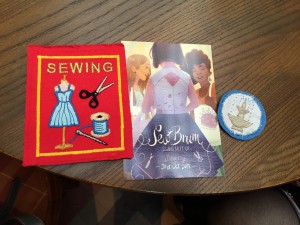 So the one on the left is the one that was made for me by the lovely Claire of Sew, incidentally. Isn't it incredible?! My return offering felt a bit paltry in comparison to her amazing work but I think it was well received 🙂
(I made Claire a fountain of knowledge because she is one of the nicest, knowledgeable sewists I've met, always quick and happy to give answers or point people in the right direction)
And after all that I went to a party in the evening. As promised in my last post, here's a picture of the Poison Ivy costume in all it's glory. I was pretty pleased with, but I didn't half feel silly roaming the streets of Moseley on my way there….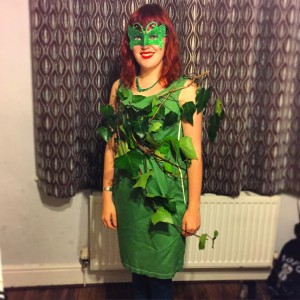 Phew! All that's left for me to say is a MASSIVE thank you to Charlotte of English Girl at Home for organising Saturday's event. I had an  amazing time and it was fab to meet so many other like minded sewists. Absolute blast of a day.
Roll on Sew Brum 2016!
x
*I left home at 9:30. Make of that what you will