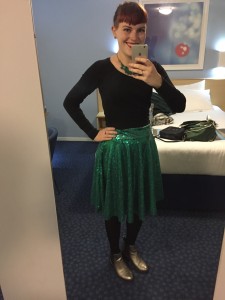 Remember that time I went to London and got enabled into buying several metres of sequin fabric?
I knew at the time that I wanted to make it into a super sparkly skirt for my work Christmas do, and so it was that one evening in November, having used the super handy By Hand London circle skirt calculator, I found myself on my hands and knees in the dining room, preparing for the flood of sequin babies that even now we're sweeping up…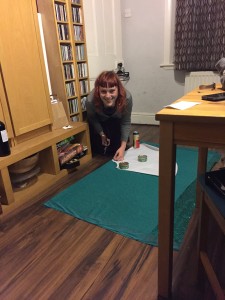 What is it?
A teal green sequin circle skirt, which Elle has christened a mermaid skirt (and who am I to argue?)
Is it blue?
No, although pretty close on the colour wheel
What's the fabric?
SEQUINS!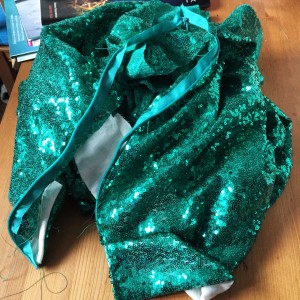 What's the pattern?
A simple full circle skirt
Where's the fabric from?
One of the first bricks and mortar shops you come to in Walthamstow Market, although I can't remember what it's called…
What was good about making this?
The shininess and testing out the swooshiness once it was sewn up (although I've no GIF for you this time as my trusty assistant was visiting friends)
What was bad about making this?
I read Lauren's incredibly helpful blog about sewing with sequins. And promptly forgot everything I read, apart from the bit about using a teeny needle. So whilst I didn't suffer a broken needle at any point, I did have to endure a LOT of snapping threads. Cue frustrated face.
Would you make it again?
I would make a circle skirt again; I like that it's swooshy and big without being quite so gathered. I would sew with sequins again too, as now I've done it once, it can only get better. Would I make a sequin circle skirt though? I'm not so sure (but I don't think that's a bad thing)
x