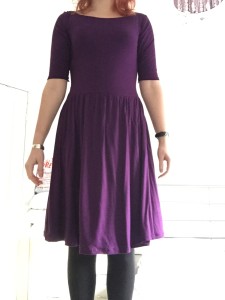 I'll be upfront. I'm not about to hand over a box of Milk Tray to every reader. However, don't you agree that my new dress is very Cadbury purple? Particularly as, for reasons beyond my ken, the camera appears to have over exposed in the background.
I digress…
What is it?
A lovely swingy swooshy jersey dress
Is it blue?
No, Cadbury purple (which I guess could be argued at blue if you get that far round the spectrum?)
What's the fabric?
Purple jersey that I picked up during SewBrum
What's the pattern?
Moneta by Colette, using the 3/4 sleeves option
Where's the fabric from?
The infamous Rag Market in Birmingham
What was good about making this?
How quickly it came together! I sat down at 3pm on Saturday and by 5:30pm I had a dress that was ready to wear out to dinner with friends (if we ignore the fact that I was lazy and didn't hem the skirt until the Sunday….).
What was bad about making this?
Although I've made the Moneta before, this is the first time I've done it on my own machine and also the first time I've sewn jersey on my machine. It was fine for the most, but there were a couple of 'oh yes, that's how you do it' with the shirred waistband as well as a 'why won't you work?!' when using the twin needles on the hem (along with a note to self to read the instruction manual before doing twin needle sewing again….)
Would you make it again?
Yup, I've already got the fabric to make it up for my dress for New Year's Eve. I think that next time I'll add the collar back in as I've realised I really like the collar, although I might use one of the add-on hacks you get when buying the pattern (let's not kid ourselves, it's going to be the Peter Pan collar because I'm a sucker for a PPC).
So yes, all in all a delightful quick project, which was especially welcome as it feels like a long time since I've actually made anything! Now I just need to tackle a slightly longer-than-I-have-time-for list of things to complete before Christmas…. Wish me luck!
x