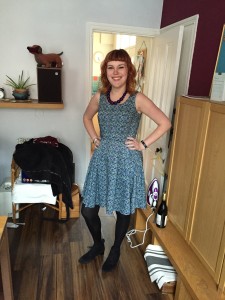 What is it?
A sleeveless dress with pleated skirt covered in teeny tiny flowers
Is it blue?
Yes
What's the fabric?
Blue floral cotton lawn
What's the pattern?
The Lilou dress from Tilly Walnes' book Love at First Stitch
Where's the fabric from?
The Fancy Silk Store in Birmingham
What was good about making this?
The dress came together surprisingly quickly, which I think was because unlike the sweetie and elephant dresses it was only lined on the bodice, not the skirt too. I also felt pretty impressed that I managed to make pleats and fit an invisible zip.
What was bad about making this?
I didn't make a toile (again….) and found that the bodice needed quite a bit of adjustment once it was on. I promise that I've now learnt my lesson
Would you make it again?
I wear it all the time, so definitely yes, but I'll make the aforementioned toile first!