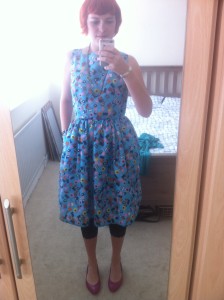 What is it?
The very first thing I made.
Is it blue?
Yes
What's the fabric?
Incredibly cheap (c.£2.99 a metre) fabric covered in licorice allsorts
What's the pattern?
Where's the fabric from?
The Fancy Silk Store in Birmingham
What was good about making this?
Actually making a dress. This was the first thing I felt brave enough to tackle and the feeling of success once I'd finally done it was amazing. The fact that on the first day I wore it out someone asked where it was from and then offered to pay me to make them one (I politely declined!) only increased the feeling and made me want to sew even more.
What was bad about making this?
I didn't make a toile (and still haven't despite making a second version….) so had to make quite a lot of adjustments to it once it was made up. I also found the instructions pretty confusing as a first timer
Would you make it again?
Yes and I did (see the Elephant dress)