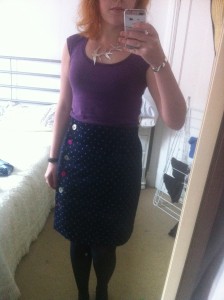 What is it?
An asymmetrical denim skirt with side button opening
Is it blue?
Yes
What's the fabric?
I used an indigo denim cotton spandex with spots for the outer and some blue gingham I had lying around for the facing
What's the pattern?
The Arielle skirt by Tilly & the Buttons
Where's the fabric from?
The denim was from Guthrie & Ghani in Birmingham
What was good about making this?
I discovered I can be pretty resourceful if I need to; at the time I bought it, they didn't think they'd get the denim back in stock so I had slightly less than I needed for the skirt. I altered the pattern to make it shorter (but not mini skirt length) and used different fabric for the facing. I liked how quickly it came together
What was bad about making this?
The top buttonhole. I'd not done buttonholes before and it took about six attempts to get the top one to work as there more than anywhere else the amount of fabric the buttonholer had to deal with meant it got pretty thick. I very nearly gave up completely. Also, the spots were white when I bought the fabric but went blue when I prewashed… And haven't gone back yet….
Would you make it again?
Yes, not least because it's a fantastic skirt for cycling in. I quiet like the idea of making one in red. I think I'll make it full length this time (i.e. buy enough fabric!) and also tackle lining it.