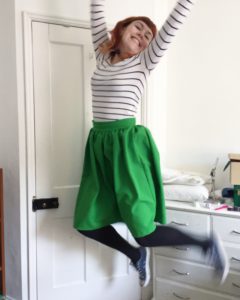 What is it?
A bright green dirndl skirt. I think of it as being my apple skirt.
Is it blue?
No!
What's the fabric?
Incredibly cheap polyester. Amazingly it actually works really well!
What's the pattern?
The Clemence skirt from Tilly Walnes' Love at First Stitch. I made it 60cm long as I wanted something  that hit below rather than above the knee
Where's the fabric from?
The Fancy Silk Store in Birmingham
What was good about making this?
It was so quick and easy! Definitely a go-to skirt; I like how easy it is to change the pattern
What was bad about making this?
Unpicking three rows of gathering stitches and a row of basting stitches. I hate unpicking stitches.
Would you make it again?
Yes. Lots. See the polar bear skirt as the first of what I expect to be many other versions.