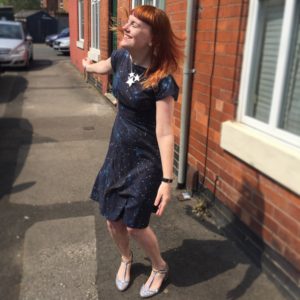 When I made the floral Anna dress, it was a toile for some rather special fabric; this fabric. Space fabric.
Everyone loves space, because it's amazing, and this dress makes it even more amazing.
What is it?
A fricking SPACE DRESS
Is it blue?
Not just any blue, space blue
What's the fabric and where is it from?
The fabric is a lightweight cotton that I got from Fabworks Mill (although it's sadly now out of stock). I was pretty excited to get the fabric, but that got even more exciting when I discovered from Elle that the fabric was originally from Paul Smith! And then I googled how much a Paul Smith shirt cost, which was pretty terrifying. Fabric find of the year!
What's the pattern?
The By Hand London Anna dress in the midi length version
What was good about making this?
Getting to sew with space fabric. Also, making something for a special occasion always makes it seem more exciting.
What was bad about making this?
As before, the sheer volume of seams that need overlocking with a six panel skirt is just boring.
Would you make it again?
Honestly? Probably not. I might consider making the maxi length dress, but after a couple of wears of this and the other Anna dress, I'm not sure if I like the bodice fit enough to make it again. I do still like it lots though!
x