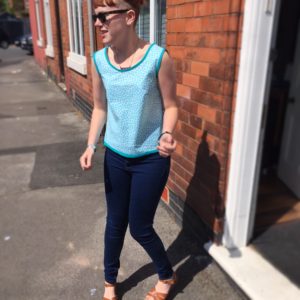 One of the very first patterns that I found when I started sewing was the Colette Sorbetto. It's a free to download top and I thought "well that'll come in handy".
Two years later, I was looking for something quick and easy to sew up for a weekend during Me Made May. Turns out, the Sorbetto was very handy!
What is it?
A simple sleeveless top with exposed bias binding
Is it blue?
Yup
What's the fabric and where's it from?
The fabric is the remnants of the super lovely elephant fabric that the boy bought me back when I started sewing and some bias binding I had that by complete fluke was exactly the right shade of blue.
What's the pattern?
The Sorbetto, but hacked to remove the central pleat. I found a tutorial for this on the Colette blog which was really straightforward
What was good about making this?
It was so quick and easy to sew and a great way to use up a bit of fabric that I really didn't want to get rid of.
What was bad about making this?
Ummm…… honestly? Pretty much nothing.
Would you make it again?
Yup, I've got a couple of leftovers that would make great tops and, as if they knew, Colette have just run a week of different hacks on the pattern. They've got a knit one, a dress one (although I probably will keep the neckline on the original) and a modernised one. I'm going to end up with one for every day of the week at this rate!
x