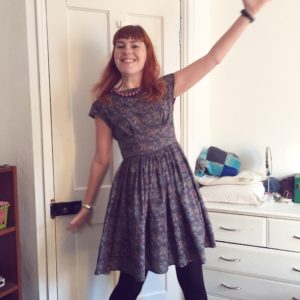 I've mentioned before how I have a habit of developing long lasting love affairs with particular fabrics, agonising over them, debating, walking back and forth like an expectant parent before finally biting the bullet and buying them.
This is one of those fabrics.
This particular love affair started quite some time ago, certainly the start of the summer (ah! Summer love!) and I knew it was exactly what I wanted. The colours are perfect and the interchanging pencils and sharpenings spoke to every part of my psyche that spent each summer at school agonising over what to buy for the coming year's pencil case.
Despite this, I just couldn't quite pluck up the courage to buy it. At least, I couldn't until Sew Brum, where the positive influence of lots of lovely sewists (but especially Lauren) tipped the balance squarely in its favour!
What is it?
A boat neck fitted bodice dress with a gathered skirt.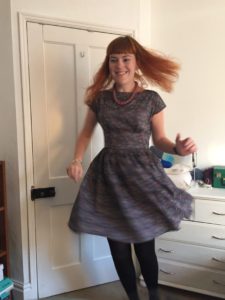 Is it blue?
No, but the lead of one of the pencils is!
What's the fabric and where's it from?
The fabric is certainly a Liberty print, but it came from the Liberty Man at the Rag Market for £8/m rather than the standard Liberty £22/m. Coupled with a very slight printing error on one side, this makes me think it might ever so possibly be a misprint rather than the real deal. That said, it is super soft and lightweight which is pretty fabulous.
What's the pattern?
I used the By Hand London Anna dress for the bodice and matched it with a gathered skirt. I only bought a metre and a half of the fabric (it might be cheap for Liberty but it was still expensive for me!) and was very pleased to find that I could squeeze the dress out of that little; my scraps pile for this project bordered on non-existent!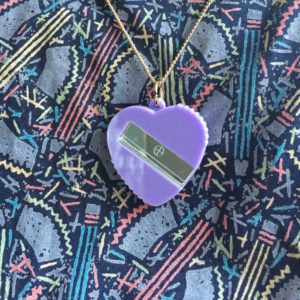 What was good about making this?
The speed of sewing was great; I put the fabric in to wash on the Saturday when I got back from town, cut in to it on Sunday afternoon and wore it to work on the Wednesday. It was also a great excuse for buying this sweet as a button pencil sharpener necklace from the Tatty Devine sale. It's pretty much the perfect partner for this dress.
What was bad about making this?
The only bad thing was discovering the flaw in the fabric. I was pretty heartbroken to begin with, and then I realised that the slightly flecked abstract background of the print overall counteracted this and literally no-one else would notice.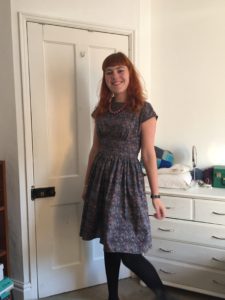 Would you make it again?
I think so. After the Space Dress I said that I wasn't too sure, but with the addition of the gathered skirt I've found renewed love for this pattern. I've also worn it almost ever moment when it's not been in the wash basket since making it, which is always a good sign!
x