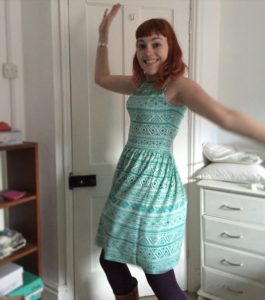 It's no secret that I have a love affair with a particular jersey dress pattern and this is the next in a long and continuing line of dress.
What is it?
A sleeveless jersey shift dress with a gathered skirt
Is it blue?
Yes, in a teal / turquoise kind of way
What's the fabric and where is it from?
The fabric is a fabulous ponte that originally came from Girl Charlee fabrics, although I was gifted it by the lovely Caroline at SewBrum
What's the pattern?
Colette's Moneta dress, this time the sleeveless version. I also altered the skirt as the pattern pieces wouldn't fit on the fabric I had.
What was good about making this?
I got the dress out of a metre of fabric! A bit of clever folding and the aforementioned skirt adaption fixed meant I could stretch fabric as I'd never stretched it before (but not literally!). It also has a really bold print which meant pattern matching was a piece of cake.
What was bad about making this?
I don't really like the gathering method used in the pattern instructions, so thought I'd try something different. Which didn't then work. So I had to use the usually method after all. On the plus side thought, following a conversation with Elle at Laura Loves Pugs I discovered that if you make more markings on the elastic than required it's about 60 times easier and makes for far neater gathers. Hurrah!
Would you make it again?
Just try and stop me!
x