THE QUEST
I've spoken before about my love of shirt dresses and the quest for the ultimate shirt dress pattern of joy.
The Sew Over It shirt dress had been on my radar for a while ever since the first SewBrum I went to where Gabby was wearing a fabulous contrast shirt dress.
I actually bought the pattern in the middle of last year but it has languished in my stash pile for a while whilst I searched for just the right fabric to do it justice. It took surprisingly longer than expected, but I think (I hope?) you'll agree with me that the wait was worth it!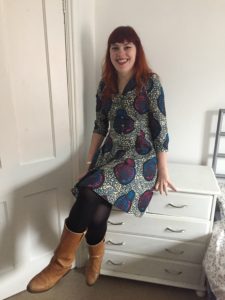 Laughing because I very nearly fell off the unit whilst taking this photo!
What is it?
A mid-length sleeved shirt dress with an a-line skirt.
Is it blue?
Yes (in parts….)
What's the fabric and where's it from?
A lovely soft wax cotton that I bought when I went to Dalston with Gabby, Vicki and Lisa before Christmas (and you can see Gabby's vlog of the trip here)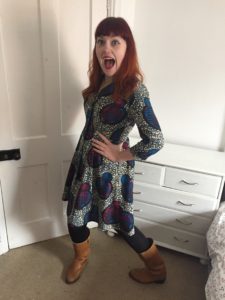 What's the pattern?
The Sew Over It Vintage Shirt Dress in view A
What was good about making this?
I'd not made a pattern from SOI before, but I was really impressed with how clear the drafting and instructions were. Sewing it up was really straightforward and things like including the button line all the way through made the pattern matching easier (in theory…). I made covered buttons again for this dress (having been bitten by the bug when I made my coat) and they really are just a lovely way to add another professional touch to makes.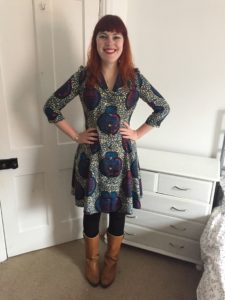 What was bad about making this?
The pattern was printed ever so slightly off centre on the fabric, something I've noticed before with wax cotton. The upshot is that everything is ever so slightly on the bias, and I think has a tendency to stretch out slightly too. In turn, despite following the super clear button line when pattern matching, the skirt piece flares away from the pattern match. It can be quickly fixed by just moving the buttons slightly to the left, but I couldn't bring myself to do this whilst tired and desperate to have it finished ready for Monday late(ish) on a Sunday night.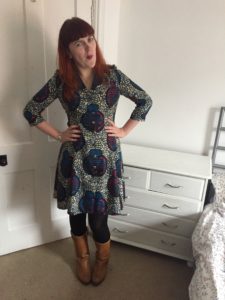 I also found that the facing at the back ended up slightly shorter than the back and the collar piece when it was put together which made for a weird wrinkle in the centre back of the collar I'm not sure if this is due to some slight stretching, adding interfacing to the facing piece (which sometimes seems to constrict fabric), an error in cutting, an error in tracing, or a general error in the pattern. I will however check out the traced pattern pieces to the original before next time though, just in case it is something that's easily fixed.
Would you make it again?
Yes, absolutely. I've got a couple of stash fabrics that I think would be perfect for this dress including something special my mum brought back from the States for me.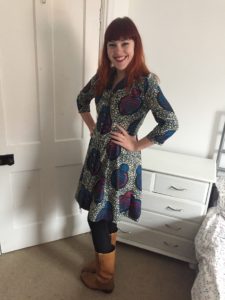 THE QUESTION
The boy is convinced that this dress is actually a Christmas dress due to the bauble shapes and what he's terming "stylised Christmas tree branches". I think it's him reading too much into it and it's actually a perfect springtime shirt dress. What do you think?
X