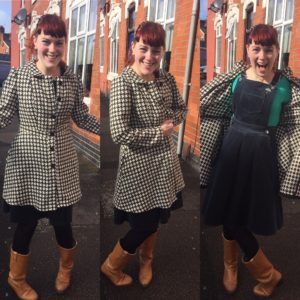 Back when I went fabric shopping in Hong Kong with Vicki  one of the things I absolutely fell in love with was a woven monochrome wool, a bit like houndstooth but more like stars (or at least, more like stars in my eyes).
I knew as soon as I saw it that I wanted to turn it into a coat, and found myself stood with Vicki in the baking heat trying to figure out how much material I'd need for a winter coat (a very strange experience I must say).
I settled on three metres, but, when I got home and remeasured the fabric, I discovered a fatal flaw in my plan; I might have been talking in metres but the shop owner was definitely listening in yards! That left me with 2.7 m of fabric – not a shabby amount but not quite as much to play with.
Then I started looking for the perfect pattern. I found it, it was glorious.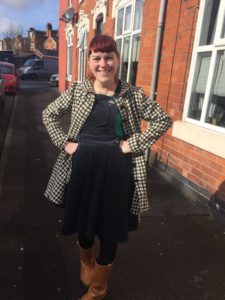 It needs a minimum of five metres of fabric.
I went back to the drawing board and, after a fair bit of searching, I found out about a pattern by Deer & Doe that was not only my sort of thing, but also didn't need any more fabric than I had.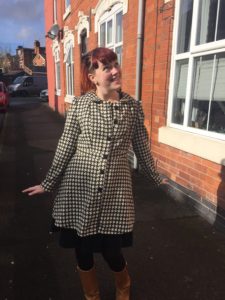 The pattern is out of print and Deer & Doe have no plans to bring it back.
By this point, I'd nearly given up hope and then, in December, whilst wondering through Islington with a frankly epic hangover I stumbled into Ray Stitch.
And, sitting there, at the back of a pattern box, was a single paper copy of Pavot.
It was fate.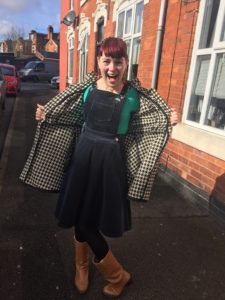 What is it?
A fitted unlined coat with a Peter Pan collar
Is it blue?
No
What's the fabric and where is it from?
A woven wool in a houndstooth-esque pattern that I got from Hong Kong. The fabric is reversible and the decision about which way round to cut the coat took far longer than it should have (literally a full week of staring at it!).


What's the pattern?
The Deer & Doe Pavot jacket
What was good about making it?
Erm, I made a mother blipping coat?! The construction of the coat was really straightforward – if anything the sewing was the fastest part of the process. The whole of the facing is finished with bias binding which I felt gave a really professional look to the inside of the jacket. I also got to use self-cover buttons for the first time, which was not only a new skill acquired, but also so super easy that I've already found myself trying to figure out how to put matching buttons on everything!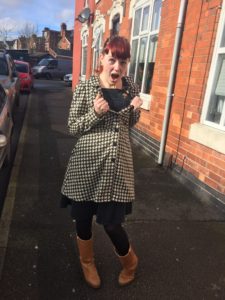 What was bad about making this?
We need to talk about the button holes. Or rather, we need to never ever look in close detail at the button holes.
Due to the combination of woollen shell, woollen facing, interfacing and, pretty much the whole way, a feck load of seams butting up against it, the fabric was too thick for my automatic buttonholer to deal with, and very nearly too thick for my sewing machine to deal with full stop.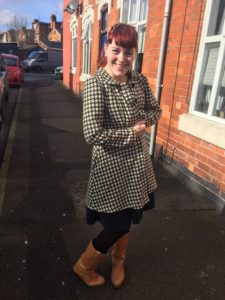 There was a lot of swearing and looking at online tutorials, but the upshot of the whole thing is that the buttonholes are tighter than I'd like and generally wonky because the weight of the fabric meant that the stitch wouldn't go in a straight line.
All in all, it was a nightmare and, as the last (but one) step in the whole process very nearly broke the camel's back. I'm really grateful I persevered, but oh my days I would look into doing this by hand next time (and I HATE sewing by hand, so that says a lot….).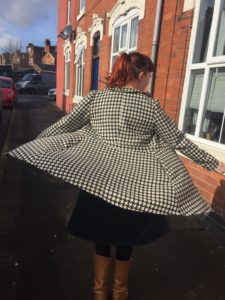 Would you make it again?
Horrendous experience with buttonholes aside, this was a really fun project and taught me quite a bit about not being scared of making something however daunting it may seem (jeans I'm coming for you….). The finished coat is great but I think if I was to make another coat I'd probably use a different pattern; one of the things my usual coat has is a tie belt to nip in the waist, and so without that this coat feels a teeny bit sack of potatoes. I'd also not make a houndstooth coat again as whilst it's awesome and does get worn, it's also a little bit too much when paired with my usual highly patterned dresses!
That said, despite it needing 5m of fabric, I do have a copy of the magic coat pattern waiting for me after a very kind friend brought one back from the States. Now I just need to build up the courage to buy that much woollen fabric in one go!
X