Well my dears, it's been quite a while since I dropped by here. Some of that is work related, as things have really stepped up a gear over the last couple of weeks, whilst some of it is much fun and sewing related (although, in fairness, my job gets to be pretty fun too sometimes!
I'll do proper updates on my recent makes over the coming few weeks, along with a few posts about the adventures I've had, but, like a series of adverts in the cinema, here's what's coming to a screen near you soon:
Two day dresses
A party frock
Possibly the greatest photo I have ever taken
Thoughts on meet ups
A series of unselfish acts (well, it is the most wonderful time of the year!)
Some resolutions for the future
And now, for today's main feature; Hong Kong fabric shopping!
I was lucky enough to get to go to Hong Kong at the end of October. I went with my mum and dad, and had an absolute blast; we went to the Big Buddha, did a trip around some of the islands, went to the top of Victoria Peak, trawled the markets of Kowloon, rode the Star Ferry about thirty times (not enough times for my liking!) and generally ate and drank our way around a host of amazing places.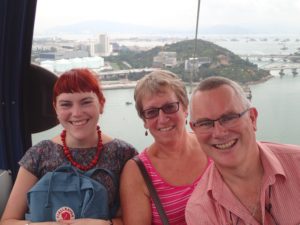 On the cable car up to the Big Buddha
And of course, I managed to sneak in not one but TWO trips for fabric shopping.
The first was an organised trip of the most wonderful serendipity. It turned out that the wonderful Vicky was in Hong Kong at the same time as me, and, probably unsurprisingly, was also interested in a spot of fabric shopping. So, on the Thursday of our trip, along with my mum (and, much to his bemusement, my dad) we found ourselves in Sham Shui Po, probably the best area in Hong Kong for fabric shopping.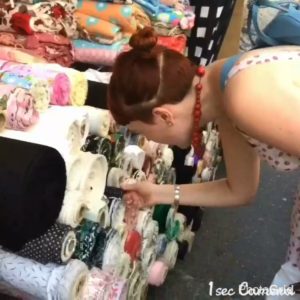 (This is from a fab video Vicky made that you can find here)
Quite a few of the stores were wholesale, with an amazing array of coloured swatches hung up outside for people to take away and consult (I wanted to take the whole rainbow with me, but wasn't sure what I'd do with one inch square pieces of fabric). Sadly, most of these places required you to order two to three days in advance of delivering the fabric, and coupled with my non-existent Cantonese it just wasn't to be.
However, we did manage to find a couple of shops that were more like the fabric shops I'm used to. My absolute favourite was an Aladdin's cave of a shop where Vicky and I were constantly in danger of having the rolls come tumbling on to us (and, indeed, in once case they did….). The shopkeeper added to the appeal, not least when, looking at my poor dad's confusion about just why three women were going "oooh" at seemingly identical rolls of fabric, she offered him her seat!
I came away with a couple of interesting pieces, none of which have yet been made up, but which will all be revealed in time.
Then, the second trip was another act of serendipity. My dad had decided to get a suit tailored whilst we were in Hong Kong, and we were on our way to go and pick it up from the tailors. We came out of the metro and walked past another tailor. A tailor with a massive bounty; bags and bags of fabric, all neatly packaged up and all 50 HKD each. That's a fiver. Five pounds. For high quality suiting and dressmaking fabrics.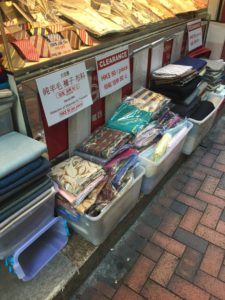 An actual treasure trove!
Needless to say, mum and I were on it like a pair of magpies, and I came away with some absolute beauties, including some blue Chinese silk brocade and leopard print sateen. There weren't any guides as to how big each piece was, but I figured I'd at least get a top out of each piece. In actuality, each piece is at least two metres long meaning there's some rather fancy dresses in my future.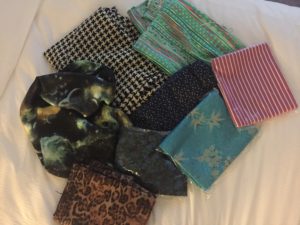 All the loveliness!
So there we have it; two really rather successful trips. Indeed, they were so successful that I couldn't actually fit all the fabric in to my suitcase and had to put them in a second suitcase….. Thank goodness for Emirates' 30kg luggage allowance!
x