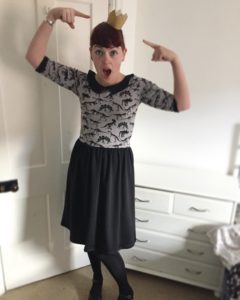 Obviously a crown is a necessity at a party
As far as I'm concerned, there ain't no party like a Moneta party. This fantastically fun Instagram escapade was the brain child of the Triple Stitchers (Elle, Rach and Abi) and was the perfect opportunity to make a new Moneta (not that I need a lot of encouraging….).
But what to make for the party?
I hummed and hawed and wondered and just couldn't decide. Or rather, I couldn't decide until I went on a sewers meet up in Leicester hosted by Crafty Sew and So in January. Whilst there, the wonderful Rebecca gave me a metre long piece of dinosaur jersey.
You heard me. Dinosaur jersey.
Well, what more of an excuse did I need?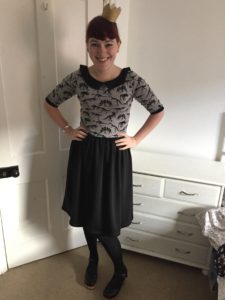 What is it?
A fitted bodice jersey dress with three quarter sleeves and congrats Peter Pan collar, cuffs and skirt.
Is it blue?
No, but it is roarsome (#sorrynotsorry)
What's the fabric and where's it from?
The dinosaur jersey was a gift from Rebecca, I think she bought it in BM fabrics in Leeds. The black jersey came from Guthrie and Ghani.
What's the pattern?
The Moneta of course! I used the standard pattern, but added a peter pan collar and also added cuffs to the sleeves. I'd not done this before and it was a teeny bit counter intuitive in parts but I really like the effect it had on the overall look of the dress.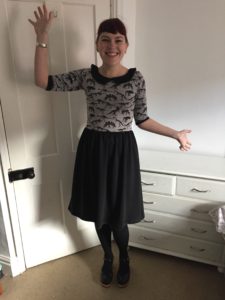 What was good about making this?
The best bit, aside from making a mother bleeping dinosaur dress (again!) was that I got to take party in a literally international party with some amazing people. I've said before that the sewing community is great, but seeing it in action over the party weekend just solidified it all the more for me.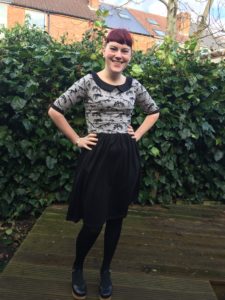 For a brief period of time I tried posing outside.
This was the only photo taken before I nearly stacked it on the deck…
What was bad about making this?
That we couldn't party in real life!
Would you make it again?
I'm not saying definitely yes, but there is some blue jersey in my stash that might have been bought with a Moneta in mind….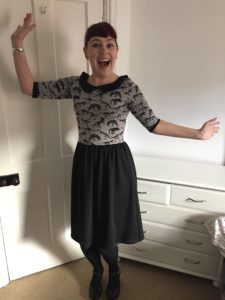 X