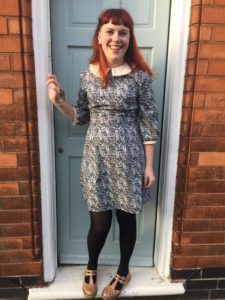 A lot of the time my work wear is the same as my rest of the time wear; it's one of the joys of both working in the arts and (mainly) working from home. It means I get to spend most days wearing dresses I love with the added bonus of vomit jumpers on days working from home.
Whilst dressmaking has really added to this ability, my most recent make for the Simple Sew bloggers network has bucked this trend somewhat, as – despite it's cute vintage stylings – it really could count as "office wear".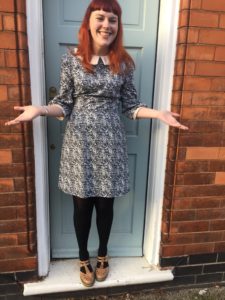 What is it?
A tailored shift dress with three quarter length sleeves and a contrast peter pan collar
Is it blue?
Yes
What's the fabric and where's it from?
The body of the dress is made using an adorable navy floral print cotton poplin that was very kindly supplied by Abakhan for this make. The collar also came from Abakhan and is a super soft cream coloured viscose.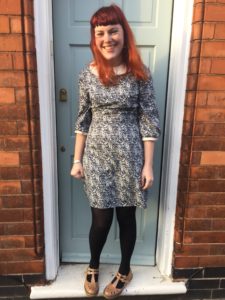 What's the pattern?
The Simple Sew Trudy dress in view B.

What was good about making this?
The first thing to say is that this dress was super easy to sew up. I made a toile first to check for bust fit after the issues I had with Ruby, and once I'd made some minor adjustments it went up in hardly any time.
In addition, although I'm not sure if good is the right word, this dress did push me out of my comfort zone due it's sixties styling; whilst I love classic details, the sixties aren't usually a decade that I look to for inspiration as I tend to find that the styles just don't suit me. Making this dress has helped change that assumption somewhat (although I doubt I'll be emulating Twiggy any time soon!).
For some reason I couldn't get the collar to stay put at the back, although that was fixed with a bit of invisible stitching. I found I had to make a really thin hem on the dress, which might have been a design feature (the 60s were all about the mini after all) but I think might be more to do with a combination of my height and personal preference to not show my bottom to the world!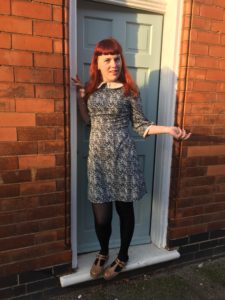 Would you make it again?
Hmmmm….. So I think I might be a bit swayed towards the sixties aesthetic, but I'm not sure I'd make this dress again without making a few tweaks first. There's also a couple of other similar but different dresses out there which I might give a try. Or maybe I'll just go back to my usual fit and flare style. Only time will tell. (And Instagram. Instagram always tells.)
X
Disclaimer: whilst the Trudy pattern was provided by Simple Sew Patterns and the fabric generously provided by Abakhan, I received no other forms of payment for this blog post and the opinions expressed are my own.