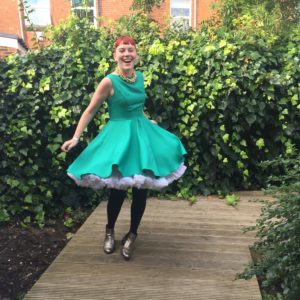 I was really excited back in the summer to be invited to take part in the Simple Sew Blogger's team. This is a fabulously talented group of sewists, each of whom brings their own unique take on the range of patterns that Simple Sew produce.
When it came to be time to make my first pattern, I had my eye on Ruby, and was lucky enough to get to give it a go. You can read my tutorial for sewing Ruby on the Simple Sew blog here, but I thought I'd stick with my usual style for this post (what can I say, I'm a creature of habit!)
What is it?
A boat necked, fitted bodice dress with a circle skirt.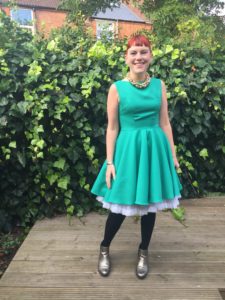 Is it blue?
No!
What's the fabric and where's it from?
The fabric is a heavy weight crepe I bought from the rag market for £1/m. I'd originally planned to make a Sew Over It Betty dress and whilst this pattern is slightly different (mainly down to the shorter skirt), it seemed like a great choice for the Ruby instead.
What's the pattern?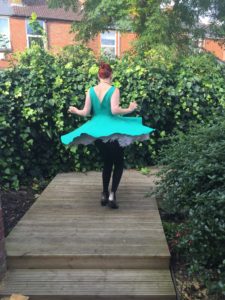 What was good about making this?
I love how swooshy this dress is, so getting to dance about in the garden was pretty awesome. It was great as a way to help me get over my, not fear, but ambivalence towards circle skirts. I've always thought they're a bit too much hassle than they're worth, hence my preference for a gathered skirt, but there is something nice about the way this lies that makes me think I should give them another go.
I also really like the fact that, because I made this in a plain fabric (I know! What was I thinking?!) I was able to get away with much less fabric than I expected as pattern matching wasn't a thing. At all. Which was pretty dreamy in itself.
I tried to get Pickle to pose with me. She was having none of it.
What was bad about making this?
Hmm. So there were a couple of things that I found less fun with this pattern. Slightly strangely (or at least, slightly strange based on the patterns I've sewn previously), this pattern didn't give body measurements, just finished measurements, with no indication of how much ease is given. So I had to guess my size based on what I'd expect based on my experience of similar patterns. I guessed correctly for my stomach, but it turns out that they draft these patterns for women who are slightly more …. well endowed … than I am.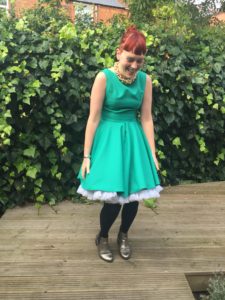 It's actually kinda funny when you think about it…
Oh sod subtlety. They draft for women with bigger boobs than me, which meant that I had a perfectly fitting dress apart from 6 inches in the middle where the fabric sagged something rotten. I managed to fix it by putting in some super darts that were pretending to be princess seams, but it's not a fantastic fix.
I also had to put a pleat in the centre front of the skirt as although I staystitched the pieces, the skirt stretched out of shape slightly, so this was the best way to save it.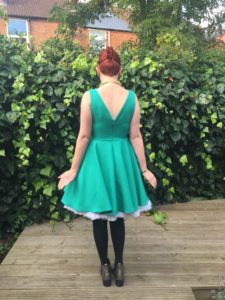 That v-back in all its glory
Would you make it again?
So I love the v-back to this dress, and the waist fit, and the neckline and the swoosh of the skirt, but that bust has put me off. I know I should just suck it up and learn how to do a small bust allowance, but, well I'm scared. Once I get over myself I think I probably will make it again, but until then, I think this might be one to chalk up to experience.
On the plus side, it does look pretty fabulous with a petticoat underneath, so maybe I'll change my mind!
x
*and if you don't, it's this one
Disclaimer: whilst Simple Sew sent me the Ruby dress pattern for free, I have received no other payment and the views expressed here are my own