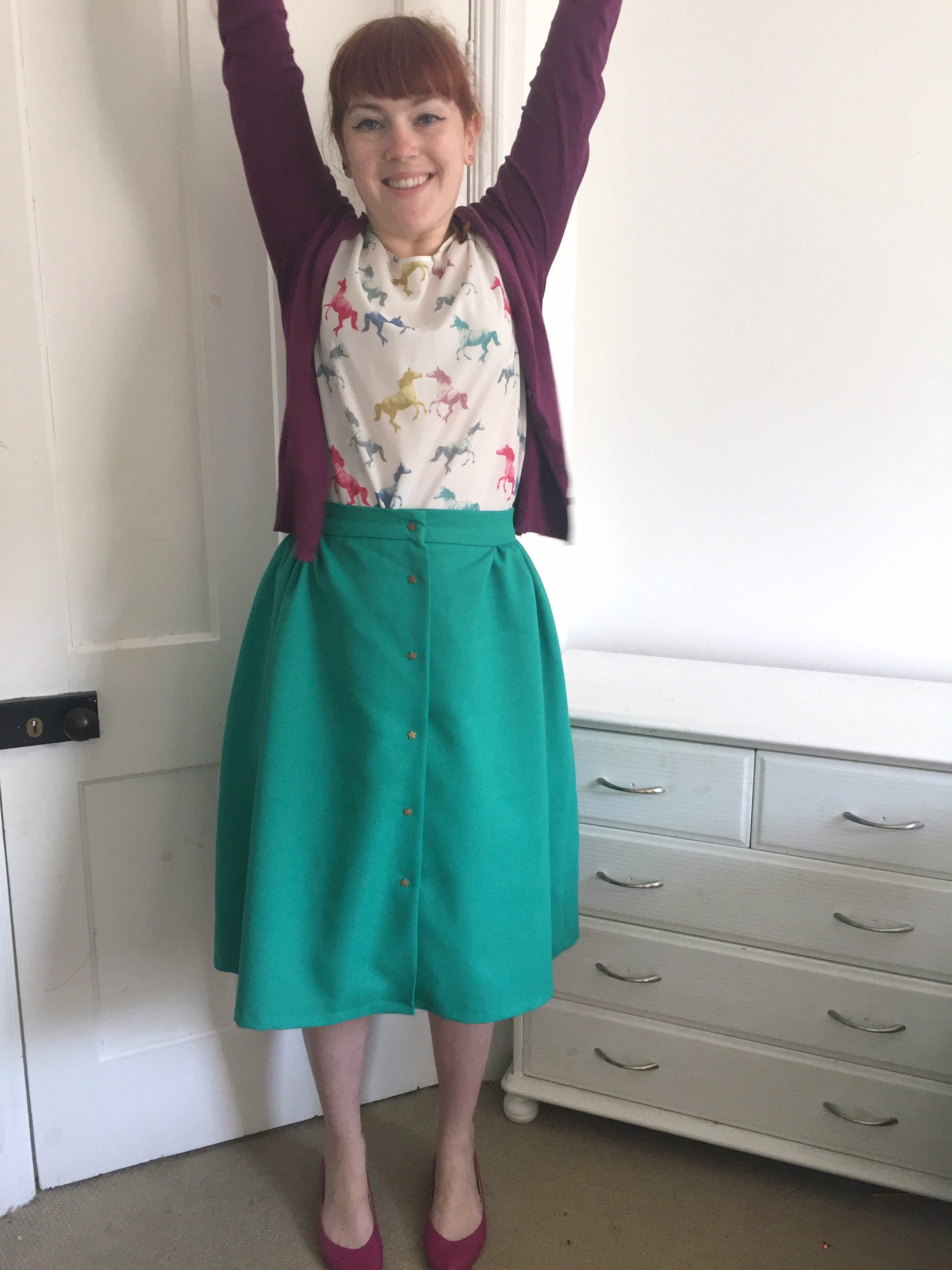 Perfecting my stick of rock look
For Christmas this year, I asked for a copy of the most recent book written by Wendy Ward, A Beginner's Guide to Making Skirts. I follow Wendy on Instagram, and had seen a couple of the pictures and designs at the point of publication. They'd grabbed my attention and I was intrigued, particularly by a button-down skirt I'd seen.
I've been after a decent pattern for a button skirt for a while; I really like the versions of the Sew Over It Erin skirt that Gabby and Vicki have made, but wanted something with a bit more swoosh to it. Step in the Brighton skirt (all the skirts are, rather beautifully, named after places that have a special association for Wendy), which ended up being one of my Make Nine patterns for the year.
It took a while for me to sit down and actually sew, but boy, am I pleased that I did!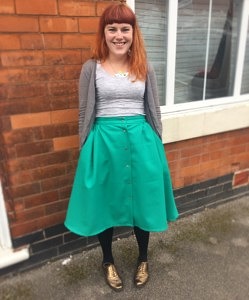 What is it?

A high waisted midi length gathered skirt with front opening fastened by snap fasteners.
Is it blue?

It's a turquoise green, so probably not?
What's the fabric and where's it from?
The fabric is a heavy crepe-esque fabric that I bought at the rag market. It's the same fabric that I used for the Ruby dress.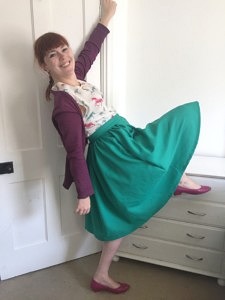 What's the pattern?

The Brighton skirt from Wendy Ward's book.
What was good about making this?
I loved the neat way that the gathers nip in the waist of the skirt and the pockets are amazingly massive.
I also chose to use snap fasteners rather than buttons, which mean that the finishing stage of this was an absolute dream that took about a quarter of the time it would have done had I gone the usual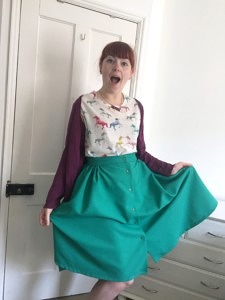 What was bad about making this?

So it's a problem that I know isn't easily solved, but the real stumbling block with this pattern – to the extent that I nearly gave up – was the tracing out stage. I've made patterns from books before where you need to trace off patterns (particularly from Tilly Walnes' Love at First Stitch), and so I'm used to the idea that you'll have multiple patterns on a single piece and need to follow the right line. The difference here is that the lines were different colours but were quite close in colour which made it difficult to follow the line sometimes, plus, a lot of the pieces were broken into different sub-pieces which you needed to match together to get the piece you needed to cut.
On paper it all sounds simple (sorry for the pun….) but I found that it was quite frustrating as a method for tracing; I spent a lot of time concerned I might have missed a piece.
As I say, I don't think that there's an easy solution here, but it was the thing that I enjoyed least making this skirt. The fact I actually did trace out the waistband to the wrong size first time round because of this probably didn't help….
Would you make it again?
I think I would. I've done the hard work of tracing the pattern now, so it should be a straightforward make. I think I'd make it slightly shorter next time; I went for the longest length because I was after a springtime midi skirt, but I think it's possibly a touch too long (but, importantly, not too long for me to do anything about it!).
x