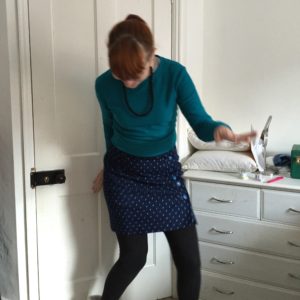 There's something incredibly snuggly about sweatshirt material. I think it's probably something to do with the way that it looks like it's been constructed from hundreds of teddy bears to give it the ultimate comf factor. When you get that comfiness and put it into something that can be worn for work as a cover up for smart dresses without looking slobby, well then you're on to a winner!
I've had this for about two months now [let's not look at my making to blogging time lag in too much detail….] and I can confirm that it is fab and gets worn with pretty much everything. In fact, I'm wearing it right now as I type this (and I have the picture to prove it!).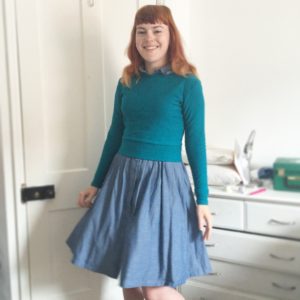 What is it?
A cropped sweater
Is it blue?
You betcha!
What's the fabric and where's it from?
A super comfy sweatshirt jersey from Guthrie & Ghani. I had my eye on it for ages and then found a metre in the remnants bin; just enough for an Astoria. It's like it was meant to be!
What's the pattern?
The Seamwork Astoria
What was good about making this?
It continues to be a super swift make, which is a definite bonus
What was bad about making this?
I'm not entirely sure I had the fabric rotated the right way… Which isn't exactly a bad thing per se, it's more just that I found myself getting confused!
Would you make it again?
It does make a great throw over for dresses due to the crop of the sweater… I think if I could find a comfy grey I probably would (I truly love a grey jumper) but otherwise as much as I love it I might be exhausting the number of Astoria's I can get away with!
x