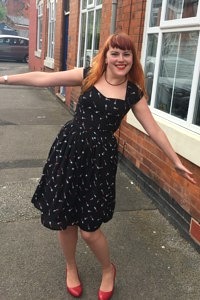 Everyone has the little thing that they do when they want to feel more confident, and whilst I can't speak for you, for me it's almost always to grab the lipstick.
Whether it's the subtle pink that I grab when I'm working from home to make me feel more grounded and ready to smash my deadlines, or the rich plum that feels vaguely gothic, there's something very present making about the act of putting on lipstick. Red lipstick is the absolute king of all of these, a bold bright colour that makes me feel ready for anything from date nights with the boy through to the most difficult of difficult meetings.
When it came round to deciding on the dress that I wanted to make to wear on a trip to Lasan for the boy's birthday, I stumbled across this fabric in my stash and realised that its time had come.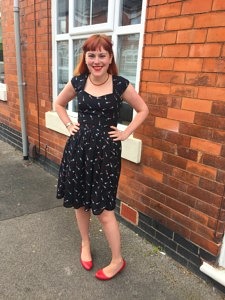 What is it?

A sleeveless (ish) sweetheart neckline dress with full gathered skirt.
Is it blue?
No. Although maybe the lipstick cases are blue if you look at them in the right light?
What's the fabric and where's it from?
The lipstick fabric is a chiffon that I bought from a stall in Walthamstow a very long time ago that has lingered in my stash ever since. I lined it with some black fabric from the £1 man in the rag market.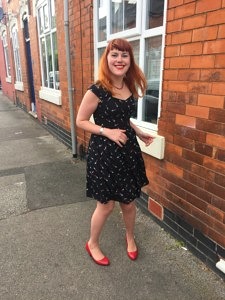 What's the pattern?
What was good about making this?
I hadn't made a Cambie in a while, so it was lovely to come back to this pattern and discover that it's as neat as I remember. The clever way that the pockets line up with the dart lines, the simple but neat method for finishing the straps, all of it's delightful.
An added bonus here is that the chiffon is incredibly floaty (which shouldn't be a surprise), and it has the knock on benefit of making the dress super fun for prancing about in. Given this dress was a date night dress, I couldn't have asked for anything else!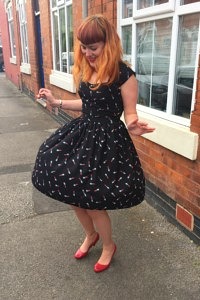 So very floaty….
What was bad about making this?
All of those qualities in the chiffon which make it lovely on a finished garment make it a bugger to sew with. It's slippery, it frays, and it does not want to behave. Thankfully I wrestled it into submission, but only by having some strong words with it!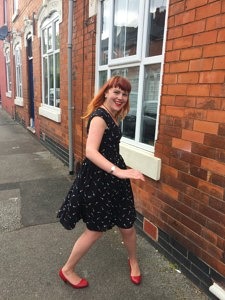 Would you make it again?
This is the third time I've made a Cambie; the first, my gingham version, gets worn a lot. It's a great workhorse of a dress that can take me from work meetings to drinks with friends and always feels smart. My second is a version covered in unicorns that I made for Gabby's wedding reception. I'd wanted to make something with the fabric for ages and it was a perfect opportunity. However, I've not actually worn the dress since, and it makes me feel a bit sad each time I see the happy unicorns in the wardrobe being neglected. This version is, I think, halfway between the two. It's got the workhorse aspect whilst also looking a bit special.
All of which is a roundabout way of saying yes, I think I probably will make Cambie again, but, from experience, it will need to be the right fabric; something that's smart and fun, but that isn't too fun (if that makes sense?) as the design of the dress gives added fun on its own. Currently I don't have one of those fabrics in my stash, but, as is often the case, I suspect it's just a matter of time!
x