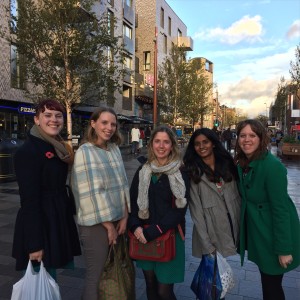 It might be time for me to admit I have a fabric buying problem as, as if buying a load of fabric and swiping winning a load in the stash swap at SewBrum, last weekend I found myself on a train to London at an ungodly hour* to meet up with some really rather lovely sewists and explore Walthamstow Market.
This week's stash of sewists [and if that's not the collective noun, it should be!] were all members of a group on the wonderful forum The Foldline. The group is united not just by our love of sewing but also by our age; we're all 20-something sewers *cough* just in my case *cough*.
When I finally got to London, the first thing that threw me was the wind. Literally. It was raining when I got out of the station to meet the others, so I put up my brolly. This turned out to be a bad ideas I turned the corner towards the meeting place, got grabbed by a HUGE gust of wind and thought I was going to be knocked sideways.
Once I'd recovered I finally got to meet the lovely ladies who'd also made the journey; Dinushi, Jenny, Lucy and Laura (who also organised the day), as well as Laura's fiancé who bravely came along in the face of the stash.
We headed off down to Walthamstow market, and there was no stopping us. We went into pretty much every store, stopping at every stall in the market en route. There was a lot of umming and ahhing and, a lot of enabling. All it took was for one of us to go 'but will I really use it?' for the rest to say ' ah but you could maybe use it for this' and come up with a load of reasons for them to buy the fabric. Enablers.
It worked….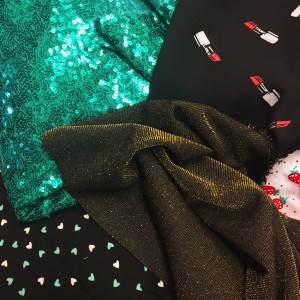 The lipsticks will be a blouse, the strawberries (hiding just out of shot…) will be a summer a dress, the hearts will be a dungaree dress, the shiny gold jersey is for my new year's eve dress and the green sequins are for a Christmas party skirt.
The sequins are pure enabler; I spent all day debating them and they spent all day convincing me that I did want them. I'm not sure why I was surprised to be honest. I mean look at them . They're SEQUINS! And there were little sequin babies when I moved the fabric for cutting, which definitely didn't make me go 'awww'…
After all that shopping, we were pretty weighed down and starving so stopped for a bit of lunch and a natter before heading off into the sunset. And speaking of the sunset, the sun finally came out. Once we were finished…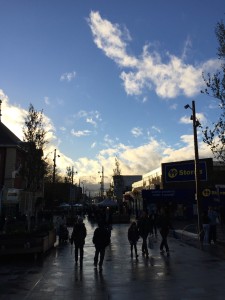 Thanks again to Laura for getting us all organised and to all of the sewists for putting up with my sequin indecision. It was a great day and I can't wait for our next meet up (although I think I might need to do some sewing first to reduce down my now ridiculously massive stash!)
x
*seriously, if you think I complained about having to leave home at 9:30 for SewBrum, on Saturday I left home at 8. With a hangover. Not fun.