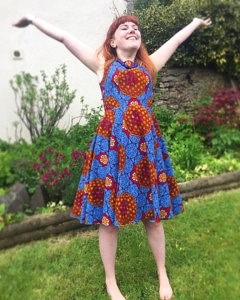 Sometimes you make something and you wondered just what it was that took you so long. The Betty dress is one of those makes.
As a pattern I'd been aware of it for a while, and, back in May of last year I finally got round to buying it. I also hadn't realised that it took me a full year from purchase to sewing it up, so that's a bit embarrassing….
At any rate, towards the end of April I finally bit the bullet and got a version made, and boy am I glad I did!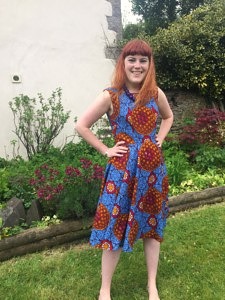 What is it?
A sleeveless dress with a v-neck back and a full circle skirt
Is it blue?
Yes!
What's the fabric and where's it from?
The fabric is an African Wax print that I picked up on Middlesex Street back in September last year (the same trip where I bought the giant diamond print)
What's the pattern?

The Betty dress from Sew Over It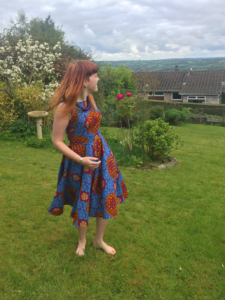 What was good about making this?

As I said, I'd had this pattern in my stash for ages, but for a variety of reasons hadn't got around to making it. Well that was a total error, this dress was a dream for construction and so fast to sew up as well. I really like the way that SOI patterns remind you to do the things that we all know we should do but don't always remember (understitching….), and the simplicity of the actual design meant that the pattern could really shine.
I also was very pleased that, unlike some previous attempts, the full circle hadn't stretched or warped by the time I came to sewing the bodice to the skirt. Whilst it may well be that the reason this happens is user error, not having to worry about it was really rather nice!
What was bad about making this?
A circle skirt means a big circle of a hem. Which means a LOT of time hemming. I went with my favourite hem approach (i.e. the one for lazy humans – overlock then turn at the overlock and stitch), but it still felt like a long slog, and the idea of doing either a double turn or, heaven forbid, hand stitching the hem makes me want to cry a little.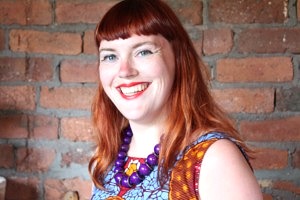 So good I wore it for staff head shots. Fancy.
Would you make it again?
Yes I would, but I need to do some alterations at the neckline. I'm not sure what it is that needs doing, but the neck feels slightly wider across the shoulders than I am, which means it feels slightly baggier than expected. It also then has a knock on on the back which – to my mind, although it might just be me – feels like it gapes slightly. Any suggestions on fixes are much appreciated!
x