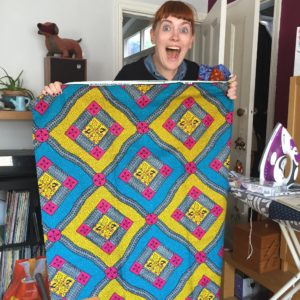 Reader, I have a confession. I have become a bit obsessed by African wax print.
It started out innocently enough; I noticed on Instagram that some bloggers (particularly Roisin and Vicky) were posting up dresses made from super vibrant bold patterned fabric. Something about the vibrancy sparked an affection for the fabric, but it wasn't something I saw when physically fabric shopping so I watched from afar.
Then I started to see wax cotton on my rounds of the rag market, and realised how well priced it is. The affection strengthened, moving into an attraction. I even bought a piece, relatively subdued in pattern as it was, and used it for my Colette Rue, marvelling at how workable the fabric was.
The attraction morphed further.
Things came to a head towards the end of September. In my day job, I work predominantly from home, but when I'm in London I work out of an office that's based in Rich Mix.
Which is a ten minute walk from Middlesex Street, one of the hubs of wax print in London.
Which I then discovered having not previously realised it.
Faced with overwhelming choice and a serious heap of desire I caved, and came back two wonderfully joyful outrageous pieces of fabric. The obsession was fixed…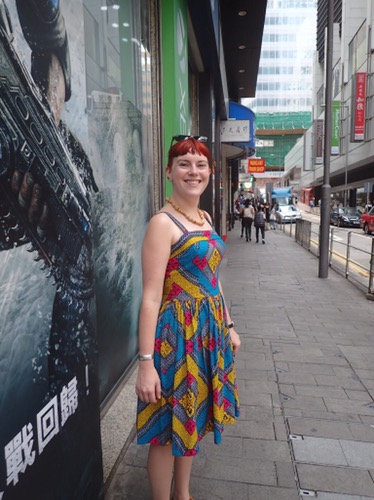 What is it?
A strappy summer dress with a princess seam bodice and gathered skirt.
Is it blue?
Some of the panels are blue, as are the lines that connect the little roundels.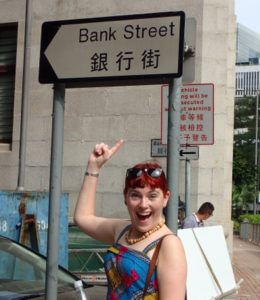 My house is on Bank Street. Cue obligatory ridiculous posing….
What's the fabric and where's it from?
An amazing piece of African wax cotton from Middlesex Street. I think I bought it in Good Luck Textiles, but, based on the number of stores in the area, you could into any of them and have a blast.
What's the pattern?
I used the By Hand London Charlie dress, using a gathered skirt rather than a circle skirt, as per the strawberry dress.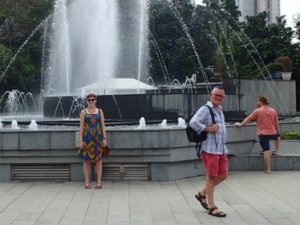 What was good about making this?
How truly wonderfully vibrant it is. I did some pattern matching on the bodice that seemed to actually work (a feat for me….), and I also liked the pattern placement that I did with the roundels central on the bodice.
It came together relatively quickly and felt like a fun thing to sew, probably based on the happiness of the pattern.
What was bad about making this?
I spent a while wondering about the skirt length, and, although I ended up going for the shorter length, still wonder if I made the right decision and should have stuck with midi length (although it's definitely too late for that now….). I also had worries that I wouldn't actually wear the dress because it's that bit more vibrant than my usual makes. I shouldn't have though, as it was amazing to wear and, even if it ends up being mainly a summer holiday dress, it is still wonderful.
I do really like the Charlie pattern, so I wouldn't be surprised if I made another. I also have a lot of fabric left (pretty standard where wax cotton is concerned as it comes in 6 yard chunks) so I may well make a skirt in the same fabric that might, possibly, be a way to wear the print more regularly.
x