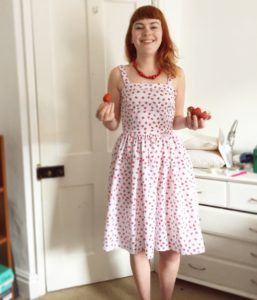 Way back when I went to Walthamstow for the first time, I picked up some fabric and, despite the cold, rainy October day, I just knew that it was destined to be a summer dress.
Then, at Christmas time (ish), the pattern with Simply Sewing magazine was the Charlie dress by By Hand London and I was smitten.
Rush forwards to May and the time for making summer dresses felt very near at hand, so armed with the PDF pieces I hit the stash and sewed it up in two shakes of a rabbit's tail.
I love this dress and have worn it loads, including two summer breaks (ok, one summer break to Lille and Glastonbury Festival where it was muddy. Really muddy. And then it rained and got muddier).
And as for the strawberries? Well, why wouldn't you match your breakfast to your dress when you can?!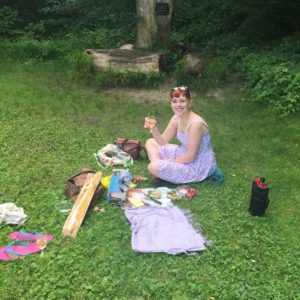 What is it?
A bandeau-style princess seamed dress with shoulder straps, fold over neckline and self drafted gathered skirt.
Is it blue?
No
What's the fabric and where's it from?
Teeny tiny sort of see through strawberries that I got from a shop in Walthamstow
What's the pattern?
The bodice is the Charlie dress by By Hand London. I used the version that came with Simply Sewing magazine but they've since released a version that anyone can buy (and which the link points to).
What was good about making this?
I got to do a couple of firsts with this, not least first time making a top with princess seams. I really like the fit the bodice has as a result of the princess seams, it feels really feminine and flattering and I'll look out for more patterns with it.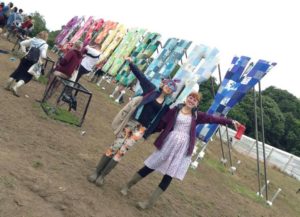 (can we just take a moment to appreciate Kat's cat leggings?)
What was bad about making this?
I had a bit of a scary moment where I thought I wouldn't be able to do it up, but that turned out to just be one strawberry too many!
Would you make it again?
I would. I'd shorten the shoulder straps by about an inch as they fall down when I'm not paying attention, but that's about it. I'd like to try it with a circle skirt, which is what the original pattern came with. Other than that though, it's a winner for me, and might just be the perfect summer dress (maybe).
x