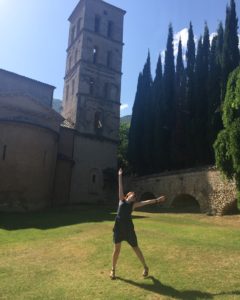 How can you not jump for joy in a former Italian abbey?
It's no secret that I love Moneta, and it's quickly become a regular sew, especially since I discovered that I can get a dress out of just one metre of fabric with a bit of wiggling. So it was no surprise that when I spotted some polka dot fabric on a trip to the rag market hosted by Rach that I quickly snapped some up ready for a light and breezy summer dress.
What is it?
A sleeveless jersey dress with a fitted bodice and gathered skirt
Is it blue?
Yup yup yup!
What's the fabric and where's it from?
A thin lightweight jersey from an outdoor stall at the rag market; it was a bargain too, costing only £1.50!
What's the pattern?
The Colette Moneta (again!)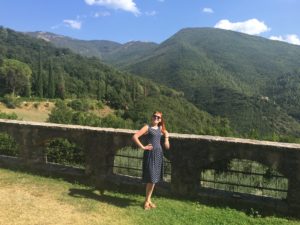 Seriously, the view from this place was amazing!
What was good about making this?
As ever just the speed at which I could get it sewn up was a delight
What was bad about making this?
The fabric was printed ever so slightly squiffy which meant cutting out pieces so that they would line up was a bit of a nightmare. Luckily it's nothing that couldn't be sorted with a quick application of some scissors!
Would you make it again?
I wouldn't say never, although now that we're moving into autumn I might look to make a few more sleeved versions of the dress. That said, I have a freaking huge list of to-be-mades at the moment so unless it's a truly truly fabulous print I think it'll be a while before I make another.
x