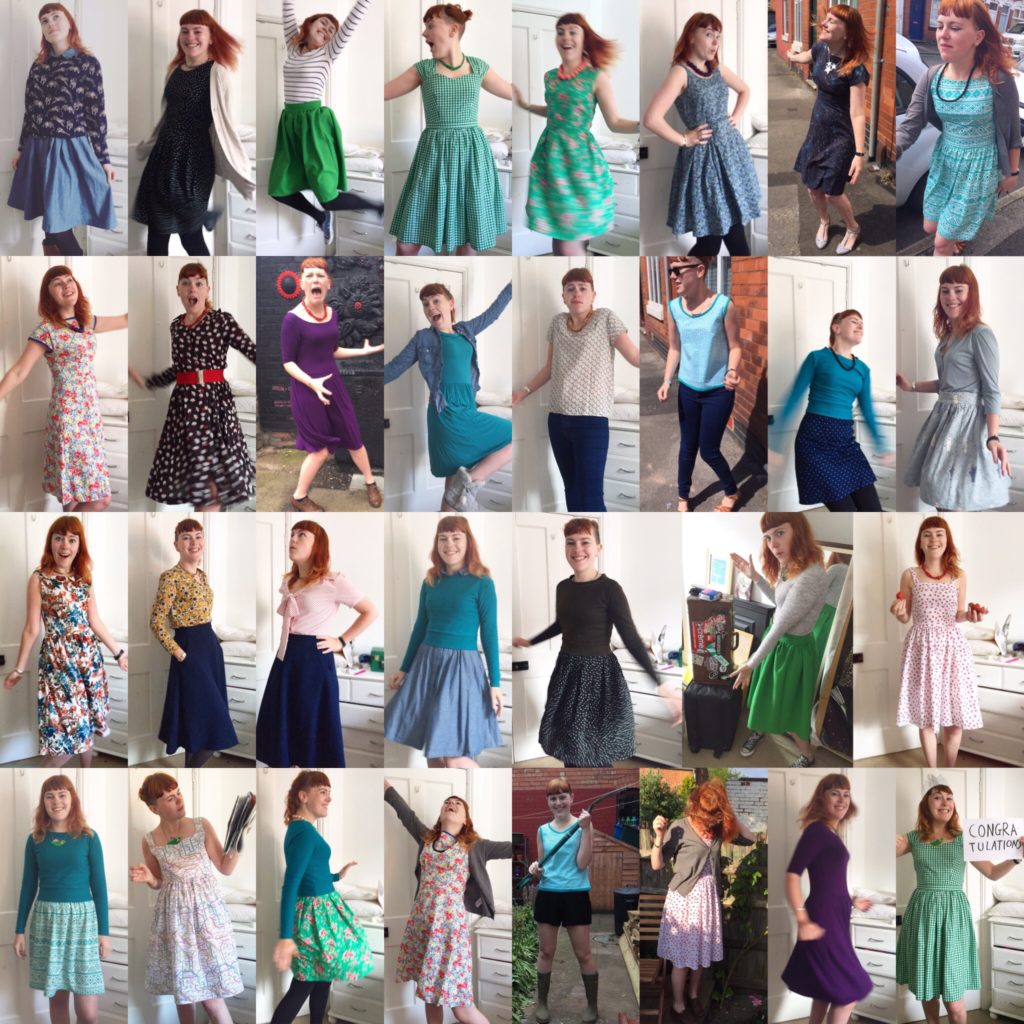 I did it! 31 days of me made items!
I'm really pleased I stuck with it all the way through, as I had a real sense of achievement in doing it. There were a couple of points where I very nearly couldn't be bothered, but it was definitely worth it.
I also learnt a couple of things from doing this. Starting with the moans (to get them out of the way…)
Repeating outfits isn't a problem, but it feels a bit like a problem when you're presenting your outfit every day. I felt like there was a pressure to wear something different, even though I know I was the only one putting that pressure on me. Which leads rather neatly on to…
God it's boring to take your own photo every day. Because it isn't just taking one photo, it's taking lots. For most of the poses I used a timer setting, which takes a burst of ten photos. So you have to pick the best of those. However there might be as many as 10 timer shots taken to try and get the "best"pose. So that's over a hundred photos to choose from. Every day. Boring.
That said…
My sewing skills have really come on in the last year; I had seven new items during the course of the month, which is a rate of knots I couldn't have dreamed of previously
Turns out I really like green and blue items of clothing. Whodathunk?
I've got a couple of key patterns that are proving great wardrobe builders; the Colette Moneta (days 8, 11, 12, 17, 25 and 30), the Gather Patterns Mortmain (days 2, 5, 22 and 27) and a basic gathered skirt pattern which, as well as being used for my green and polar bear skirts, is also the bottom of my strawberry dress.
I've also got a couple of things that are lacking and that I really need to add in to the mix, especially trousers and casual tops. That said, I discovered the Colette Sorbetto top is a fab stash buster (days 14 and 21) so will be making a couple more and have patterns for both the Closet Case Ginger jeans and Sew Over It Ultimate trousers waiting for me to make.
In spite of potentially needing to make more sensible decisions in my sewing, I blooming love making dresses and will still make them more than anything else, because they're just more fun, and that, for me, is what sewing is all about!
So how about you? Did you take part in Me Made May and how did you find it? I'd love to know 🙂
x