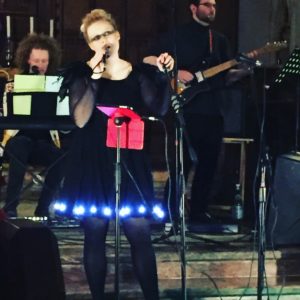 So back in December, my friend Jenny asked me if I'd be able to help her out with something rather exciting. She makes music under the name Rooks (and go check it out, because it's amazing) and wanted to do something a bit different for her album launch in March. Namely, lights. So of course I agreed, because, frankly, when offered the opportunity to make a dress with lights in it, who'd say no?
What is it?
A sleeveless shift dress. With lights. You heard me. Lights.
Is it blue?
No
What's the fabric and where is it from?
Black crepe from the indoor market at the Bullring. The bodice was lined with a black and white bird print cotton bought in Walthamstow.
What's the pattern?
An altered version of the Lilou dress from Love at First Stitch.
What was good about making this?
Figuring out how to sew lights into a dress, and then threading them all the way through was a challenge but a fun one. It also meant that the dress had an incredible structure to the skirt due to all the wire snaking around inside. However, the absolute best thing, sappy as it is, is that I got to see one of my best friends wearing a dress that not only looked great, but that gave her a lot of joy, as evidenced by her switching it on and off after the gig to show people how it lit up. That was pretty magical
What was bad about making this?
I learnt that black fabric is not particularly interesting to sew with. I also found it really stressful to make something for someone else; as much as I worry about the fit when I make things for myself, I know that ultimately I can bodge it around myself. Not the case here by a long shot!
Would you make it again?
It depends if I'm asked!
x