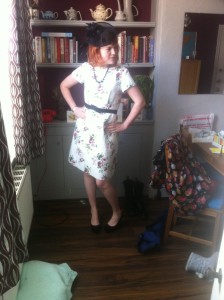 What is it?
A bateau neck sheath dress I made use a floral fabric to wear to a friend's wedding
Is it blue?
No!
What's the fabric?
EMMIE ROS cotton, a medium weight interior fabric
What's the pattern?
Colette Pattern's Peony dress
Where's the fabric from?
IKEA! (I think the name probably gave it away)
What was good about making this?
It came together pretty quickly, I was impressed with how clear the Colette instructions were, I liked the boat neckline
What was bad about making this?
I've since learnt that Colette model their bodice on a c-cup. I am not a c-cup. This explains why I had the usual issue of the dress being way too big on the bust, even though I graded this pattern before starting. However, as I wore it with a belt, this hid quite a lot of sins! Also, setting sleeves was quite a big learning curve!
Would you make it again?
Yes, but I'd use a fabric with more drape and I'd also learn how to do a SBA