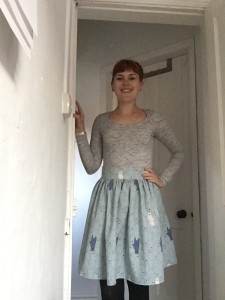 What is it?
A dirndl skirt COVERED IN POLAR BEARS!
Is it blue?
Yes
What's the fabric?
POLAR BEARS! Or, more calmly, Polar Bears by Kobayashi Canvas
What's the pattern?
The Clemence skirt in Love at First Stitch, this time with a 50cm drop
Where's the fabric from?
Tomato in Nippori Textile Town, Tokyo
What was good about making this?
Did I mention this skirt had polar bears on it? Polar bears.
What was bad about making this?
Unpicking gathering and basting stitches (again…)
Would you make it again?
Yup