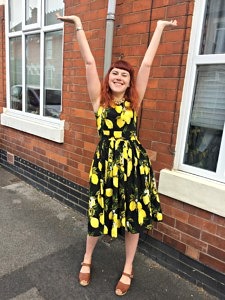 I'm not sure what it is about lemons, but for a really, really, long time I've been after a dress covered in lemons. Specifically, non-cartoon style lemons on a black background. Last summer a friend had a pair of trousers in exactly the right print from H&M, and although I did rummage the racks, they hadn't thought to make it into a dress (fools!).
Then, towards the end of June, I discovered that Meg had managed to source the perfect fabric that I was after and was selling it on her Etsy shop. Fast as a flash the fabric was ordered, and almost as speedily Meg got it out to me. I had a pile of possible makes as long as my arm but it was no good; as soon as it arrived I had it washed and, the next free day I had, I began to make the dress, because when life hands you lemons, the obvious thing to do is make lemonade.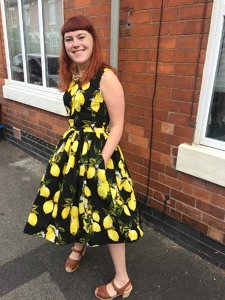 What is it?
A sleeveless dress with a full gathered skirt.
Is it blue?
No.
What's the fabric and where's it from?
The fabric is the most gorgeous lemon print fabric that I bought from the Pigeon Wishes etsy store.
What's the pattern?
A Gather Patterns Mortmain dress with the addition of a slightly longer gathered skirt.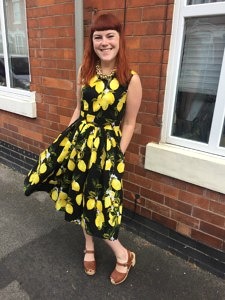 What was good about making this?
The obvious answer is that it was easy-peasy-lemon-squeezy (sorry not sorry).
Being a bit more serious (but only a bit!), I've made the Mortmain enough times now that I don't really need to do much thinking. I made a decision that I'd use facings rather than lining or bias binding, and although that's been a problem before, I made sure I'd overlocked everything and I did a couple of teeny tiny secure stitches around the neckline and armholes to prevent the facings flaring.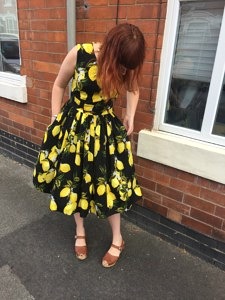 What was bad about making this?
For reasons I'm not entirely sure of, I had an absolute 'mare putting the invisible zip in. Every time I ran it through the machine the needle was hitting on the zipper teeth, no matter how much I pressed the zip, poke about and pulled at the fabric. In the end I gave up entirely and did the zip using my blind hem foot, using the little groove in the foot as the guide for the zip. It's not as completely concealed a finish as I'd like, but, given the bulk of the fabric is black, the zip is black, and the stitching is black, I really don't think it's a problem.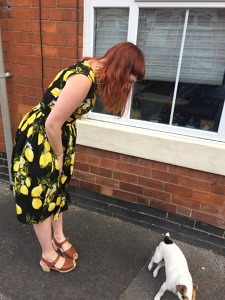 Making friends with one of the neighbourhood dogs
Would you make it again?
Let's not pretend the answer is anything other than yes!
X