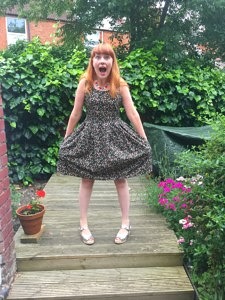 My most recent project for the Simple Sew blog team was a really easy one for me to pick; the Grace dress had just been released, and with its scooped neck and two skirt options I knew it'd be a great wardrobe builder (maybe even, dare I say it, a possible competitor for my beloved Mortmain pattern?).
I wasn't disappointed, and the finished dress is one that works really well with the fabric I used. It also came together incredibly quickly; having started to cut out the fabric at 11am on a Saturday I was ready to wear it out for drinks with friends that evening, which is always the sign of a good pattern (at least it is in my eyes!)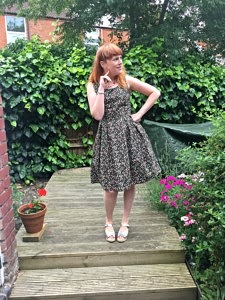 What is it?

A sleeveless dress with a scooped neck and pleated skirt.
Is it blue?
No.
What's the fabric and where's it from?
The main body of the fabric was kindly given to me by White Tree fabrics. The lining material was from the £1 man on the rag market.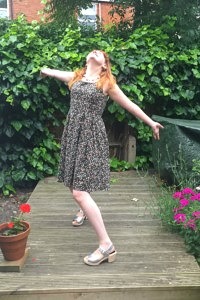 What's the pattern?
The Simple Sew Grace dress in version B.
What was good about making this?
I made the pattern straight out of the packet (I know, but I was feeling impatient and needed my sewjo back) and it was a pretty good fit. The pleating of the skirt was nice and neat, and the little details – like using the outer fabric as lining on the waistband – make for a pleasing finish.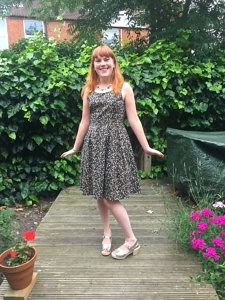 What was bad about making this?
I made a big old error. I had about the same amount of fabric as I needed, and wanted to cut the tea-length version of the skirt. I did not check that I actually had the right amount of fabric to do this, I just went ahead and cut the front of the skirt at the longer length. And then I did not have enough fabric left for the back pieces. Which was pretty effing stupid.
Thankfully, I had enough fabric for pieces that were still longer than the short version, and I could improvise with a length that actually worked out quite nicely.
The only other thing that was bad, but not in a really bad way, was that the back bodice piece was designed to go with both neckline versions, but really only fitted against the wider version. I had to do a bit of fixing to make it narrow enough for this version, but it wasn't anything particularly arduous.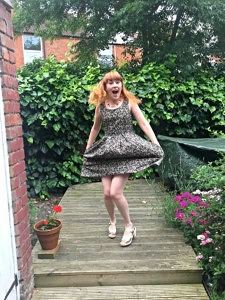 Would you make it again?
I think I would. I've worn the dress a couple of times since I made it, and it's been a general success. I need to do something about the straps just above the boob as there's a tiny bit of excess fabric which I'd prefer to get rid of. I think it would need a pleat or maybe a SBA? I'll be doing some research to figure it out at any rate!
x
Although the fabric and the sewing pattern were very kindly given to me, I received no other forms of payment for this post and all the views expressed are my own.