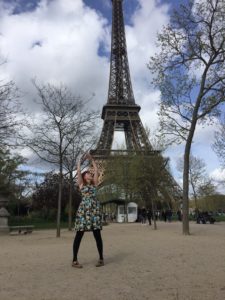 It was that weird hinterland between Christmas and New Year and we were dashing from a (slightly) boozy lunch with friends to a (slightly more) boozy dinner with the boy's family.
Nonetheless, my Christmas money was burning a hole in my pocket, so I found myself going into Guthrie and Ghani. Don't look like that, it's just next to the pub where we had lunch and they had a sale on, so it was definitely justified.
Whilst looking through all of the beautiful fabrics I stumbled across something glorious: fabric covered in replicas of those fabulous vintage travel posters that make me long for the golden age of travel (let's ignore the fact that, given the ease of global travel, that might actually be now….).
I knew immediately that this would be my travelling dress. I also knew that it wouldn't be worn until the next time I went on a proper adventure.
As luck would have it, that proper adventure was just around the corner.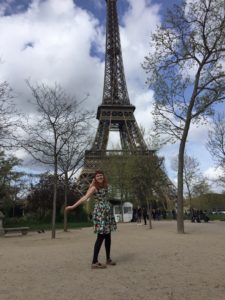 What is it?
A sleeveless dress with a sweetheart neckline and a gathered skirt
Is it blue?
Yes, but also black and white and green and red and yellow and you get the picture….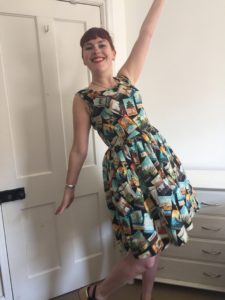 What's the fabric and where's it from?
Robert Kaufman "Dream Vacation" fabric from Guthrie & Ghani. They no longer stock it, but you can probably find it online. I lined it with some black cotton from the rag market.
What's the pattern?
The Gather patterns Mortmain with my sweetheart neckline hack and a waistband hack to reduce breaking up the pattern. I used a gathered skirt rather than the standard pleated skirt.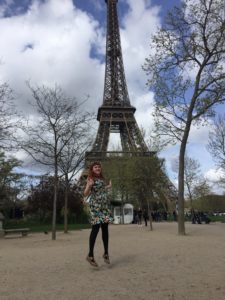 What was good about making this?
I enjoyed the challenge of changing the waistband into a single piece. It was a bit nerve wracking in case it didn't actually work, but I was pleased to find it was (almost) a doddle!
A big plus was also the opportunity to prat about in front of the Eiffel Tower in a pretty dress; my everlasting thanks go to photographer extraordinaire Jenny for her excellent direction!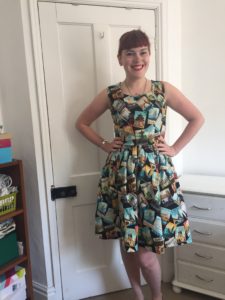 What was bad about making this?
The downside of the waistband change, when coupled with the addition of lining into a close fitting dress is that this one felt a bit tighter than usual…. Not necessarily a problem but definitely not the best feeling when trying it on!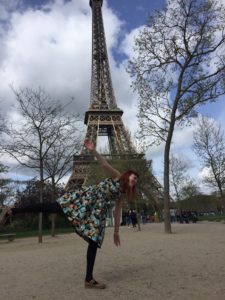 Would you make it again?
Do I really need to answer that??
x