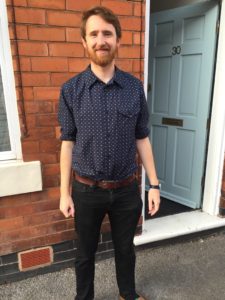 For Christmas this year, amongst the things I bought for the boy was a copy of the Walden shirt pattern Negroni, the thinking being that it could either be something that we made together (if he had any interest in learning to sew) or something that I could make for him as a delayed gratification gift.
Possibly unsurprisingly, he had absolutely no interest in learning to sew, so I made up my mind that I would make him a shirt. We found some fabric he liked, I traced off the pattern and everything was ready.
And then some time passed. And a bit more time. And suddenly it was September, nine months after Christmas, eight months since the fabric arrived, and as part of this year's #sewphotohop I discovered that the fabric was still sat in my stash box, waiting to be used.
The time for waiting was over.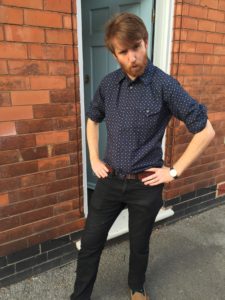 Perfecting blue steel….
What is it?
A long sleeved men's shirt with flat felled seams and a left hand pocket.
Is it blue?
Yes (because he's a boy after my own heart!)
What's the fabric and where's it from?
The fabric is a lovely shirting cotton with tiny purple pansies and blue steering wheels (best description I can think of!) bought from Fabworks Mill.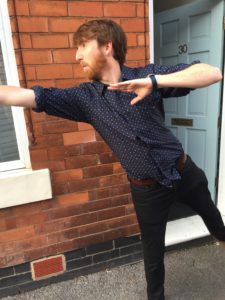 Super shirt for a super man…
What's the pattern?
Negroni by Walden, the menswear arm of Colette in version 1 (but with only one pocket).
What was good about making this?
Seeing him wear it. That's basically the best thing. Once the sappiness is out of the way though, there were a couple of things I enjoyed with this:
Pattern matching was an absolute dream, mainly due to the tiny repeat. I'm really pleased with the way that the final shirt has matched up.
Although a bit of a nightmare, the self finishing yoke and the placket pieces were really nice visually.
I got to use my own labels! These were a birthday present from the boy, so it seemed fitting that the first thing I used them on was something for him.
Learning how to do flat felled seams; they've got a really neat look to them.
The buttonholes came out neat as, well, a button, which is always an added bonus.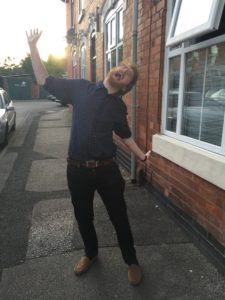 Someone's been taking hints from my posing…
What was bad about making this?
Apart from the guilt about how long it took to get moving with this, I had a bit of a mare doing the flat felled seams on the armhole and the cuffs did not want to behave, although it was nothing that a bit of rigorous pressing and topstitching couldn't hide.
Would you make it again?
I would. Maybe not often, but I am pleased with it, and I also see it being quite a useful last minute (ok, last several days) gift in the future!
x
*wait.