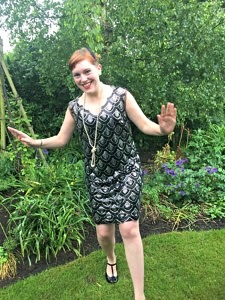 A friend decided recently that, rather than having a party to celebrate entering her 30s, she was going to pre-empt it all and instead have a farewell to her 20s. As you might expect (or maybe you don't?) the theme was all things F Scott Fitzgerald, with 20s style the lynchpin on which the evening was built.
Looking online at flapper dresses, I saw a couple of things that I liked the look of, but quickly found myself thinking "I could make that". One quick trip to the rag market and several thousand dead sequins later, I had done just that.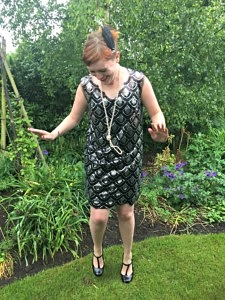 The party was wonderful, despite the almost torrential rain that fell on the day itself. A bit of a blow when you're having a garden party, but thankfully by late evening it had blown over and we were able to dance the night away under the stars – Charleston and all!
What is it?
A simple sleeveless shift dress.
Is it blue?
No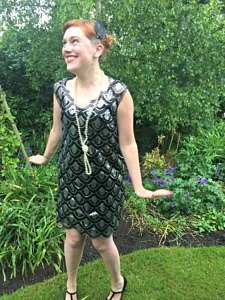 What's the fabric and where's it from?
The fabric is a sequinned fabric that I bought at the rag market for the princely sum of £12 all in. I chose it because I loved the scalloped pattern and thought I could probably use that to my advantage. The slip dress underneath is RTW.
What's the pattern?
I used the McCalls M7533 pattern that came free with issue 40 of Love Sewing magazine. The only alteration I made was to take out the zip as it was loose enough that I could just slip it on and off.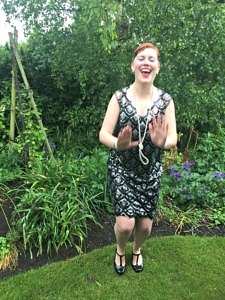 What was good about making this?
It was a super quick sew (yay!) and very satisfying to have a simple yet effective way to make the fabric look like a more professional item.
What was bad about making this?
There were sequins everywhere. There always are when I sew with sequinned fabric, but I always forget how bad it gets….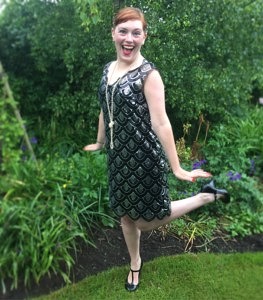 Would you make it again?
No. It was definitely a costume piece and, as a shape, this dress does literally nothing for me. There are women out there who rock a simple shift dress but I am not one of them; I really, really need a defined waistband. This scenario was fine, because it suited the style of the era, but I have no interest in making this again for day to day wear.
x