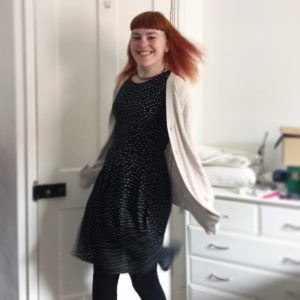 Remember that I mentioned when I made the floral dress that I had already made another one? Well here it is!
What is it?
A sleeveless shift dress with a pleated skirt.
Is it blue?
No
What's the fabric and where is it from?
The fabric is a lightweight cotton that I bought from a shop in Walthamstow
What's the pattern?
Gather Patterns Mortmain dress in the sleeveless variation
What was good about making this?
Much like when I made the floral version, this dress is so straightforward and comes together so swiftly. The detailing on the exposed zip is great and the fit is pretty much perfect for me.
What was bad about making this?
I really don't like the facing. It was a bit of a pain on the floral one, but this time it's even worse. In between making this and writing it up I've been experimenting with both bias binding for finishing and with teeny rolled hems on necklines, so would consider either of those two in the future.
Would you make it again?
Yes. I've got a gorgeous piece of Nani Iro fabric I bought in Japan last year that I've been saving and this dress is just the right amount of material combined with a pretty perfect fit. Added to that having a wedding in a few months' time, it would be a shame not to make it again. I'll definitely change the facing though as I couldn't bear to have ugly facings with a fabric this beautiful!
x